Culture Shock: Why Cheese is more than a food in France
Culture Shock
If you have ever thought about living, working, studying, or even travelling extensively abroad, you may have come across the phrase culture shock. Typically associated with confusion, stress, anxiety, and even depression, it's something that could happen to you when you move to a culture different from one you are accustomed to. 
France is one of the most travelled countries in the world, swaying between first and third in the international competition to charm travelers. While language, politeness, hygiene, and social traditions may come to your mind as forefront examples of culture shock, a country as (rightly so) food obsessed as France may leave residents with another potent form: culinary culture shock. 
As a dual French-American citizen who grew up in California, I have had a unique experience growing up with both French and American eating habits and customs. By far the most standout difference has been the customs relating to cheese consumption. 
French people consume up to 57 pounds of cheese per person per year! That's a lot of fromage! Consumed as an appetizer, before dessert, and/or simply as a side, you quickly learn that there is always an occasion where you can enjoy the French specialty.
Why Cheese is more than a food in France
 What type of cheese you consume, however, also says a lot about you! Each region has its own specialty, and these specialties are often given as gifts or party favors. For example, after 8 long years of not seeing my cousin, I was given a large wheel of Saint Nectaire cheese, a specialty cheese of Auvergne. Mixing humid volcanic geography with rich pastoral ingredients, the cheese speaks to the geography, taste, and economy of Auvergne. 
This points to a reason why you may never want to insult someone's regional cheese: it's an indicator of their region's culture and history. A polite insistence on a different cheese texture- creamy, hard, buttery, waxy or spreadable- is definitely a more appropriate way to decline. 
This can all be taken with a grain of salt in the Île de France region, which houses France's largest city and capital, Paris. In addition to having a distinct Parisian culture and influence, Paris is also a melting pot of the vast array of French culture, history, and economy. People might not safeguard their ancestral cheese with as much dignancy. 
You could also be thinking "What if I can't eat cheese?" The rise in commonality of lactose intolerance and veganism has caused French culture, and French gastronomy to change with it. There has been an undisputed rise of Fromageries Vegane, or Vegan Cheese stores in Paris, spurred by the international growth in lactose-free consumption. Jay & Joy was the first organic vegan store in Paris, but now there's a handful! 
Food is more than just something we put in our stomachs. It is an extension of our region's culture, heritage, and livelihood. Being thoughtful about the different types of food and the different customs surrounding consumption is an important way to avoid being overwhelmed. Researching a country's consumption habits and origins before visiting or moving is a sure-fire way to mitigate the effects of culture shock. 
At the same time, don't stress! Parisians, the French, and all world citizens are aware that you are a foreigner and aren't accustomed to their traditions. Cheese-savvy Paris accommodating lactose-free citizens and travelers is proof of that.
---
Connect, explore, and become even more worldly at Carpe Global, where you can learn about great resources and opportunities like those shared above! Sign up for our newsletter and follow us on social media @carpeglobal.
Interested in becoming a guest blogger with Carpe Global? Contact Sarah Hyser at sarah.hyser@student.shu.edu with your ideas, and we'll be in touch!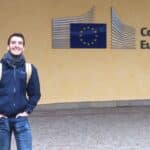 Alec is a senior at George Washington University in Washington, DC. He studies international Affairs with a concentration in the region of Europe and Eurasia. Born to a French mother, Alec is a dual citizen of France and the United States. Alec is an avid proponent of transatlantic relations, and he is dedicating his studies to the furthering of amicable relations politically, economically, socially, and linguistically between the US and the European continent. He studied abroad at Paris Université X and Paris Université VII where he studied European construction. Later, he interned with the US Embassy in Paris, serving as a member of the political section. Alec has also interned with the US House of Representatives, where he advocated for stronger US commitment to the international response to climate change. He loves traveling and fostering connections with other cultures and regions in his free time. Alec speaks English and French and is beginning Spanish and German.